What is Digital Marketing?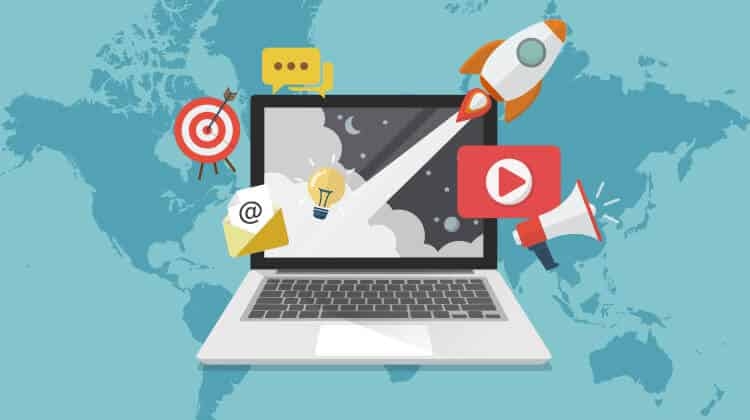 Digital Marketing is defined as the use of any online medium such as websites, social media, or search engines to reach a consumer. Typically, digital marketing campaigns are used by businesses to broadcast their brand message or promotion to a specific target audience to meet a specific objective such as lead generation or online sales.
In 2022, digital marketing is vital for your business growth and brand awareness. It seems like every other company has a website. And if they don't, they at least have a social media presence or digital ad strategy.
Digital content and marketing are so common that consumers now expect and rely on them as a way to learn about brands. In summary, in order to be competitive as a business owner, you'll need a strong online presence achieved through proper digital marketing strategy and execution.
With digital marketing, your business is able to appear in front of where your potential customers are at! This gives you a significant advantage over those who do not leverage this amazing tool to reach your goals and objectives. At Aesperon Academy, we offer digital marketing courses which are highly in demand in the market.
Why you should learn Digital Marketing in 2022
The potential growth of digital marketing is endless. The fast growth of the number of smart device owners (most people own an average of 3 smart devices in 2020) and active internet users all over the world. It is estimated that out of the 7.5 billion people, 1 in 3 has access to the internet, of which 2 billion have a Facebook account.
Running an effective digital marketing campaign opens up endless possibilities for your business, including reaching out to the potential buyers of this group of online users. Every day, about 4.6 billion people, are on the internet which represents the potential of your business to target your ads to your ideal customers. Why should you rob your business of the chance to compete in this growing market?
Aesperon recognizes the essential skills needed for workers to stay relevant and increase productivity. Hence, we've prepared a number of workfare skills support courses designed for students, professionals, entrepreneurs and businesses.
Better yet- for Singapore citizens, all our course fees are subsidized by Skillsfuture Singapore.
Actually, if you're here reading this article, I don't have to convince you about the power of digital marketing because you already know how important it is. But here are some facts that you might not yet be aware of:
1) Google
Google now processes over 40,000 search queries every second on average, which translates to over 3.5 billion searches per day and 1.2 trillion searches per year worldwide. Each Google SERP has 10 organic listings and up to 7 ad listings.
This means that out of the 1,200,000,000,000 people searching on Google, there are 20,400,000,000,000 results listings on Google appearing!
This market is too large to simply ignore and if your business is not found on Google in 2022, it might as well we close. To make sure that you narrow down your target audience, choosing a relevant keyword to rank on Google is the missing key to making sure that you appear only in front of potential customers.
Aesperon offers courses from Google Ads Search, Display Advertising and Search Engine Optimization (SEO), which eventually will help individual or businesses to digitize their products in this current digital world.
2) Instagram
As of January 2022, there are over 1 billion active Instagram users every day! With Instagram business, you can use this social media giant as a tool to reach out to your potential customers who are spending an average of 53 minutes per day on Instagram.
3) Facebook
Facebook Marketing offers your business the opportunity to accurately target your potential customers based on their demographics, location, interests, behavior, and connections. With over 2 billion active Facebook users, you'd want to make sure your ad is appearing in front of only the most potential customers to decrease your ad budget and increase ROI.
With these numbers, it's clear to see why your business must be online.

If you are looking for courses to upgrade yourself, do visit https://aesperonacademy.com/courses/ for the available courses. If have any queries on how should you upgrade yourself with the current evolution of digital marketing, feel free to email us at hello@aesperon.com.sg or talk to us.
Suggested Keywords: Google SEO Course, Digital Marketing Course, SkillsFuture Course, WSQ Course, Google Ads Course, Facebook Ads Course, Google Analytics Course, Business Negotiation Course, Leads Generation / Sales Course, Aesperon Academy.